Wahoo ELEMNT BOLT is a device that had served me almost perfectly on over 300 rides and 23,000 kilometers, during the course of two full seasons.
But why precisely did I go for BOLT to begin with? First of all, it is better to ask the question as to why it was only in early 2019 that I had decided to make this leap forward and join kind of revolution in this segment of accessories. There are many reasons but there is one answer – I was simply not satisfied with the characteristics and functionality of the devices that I had the opportunity to try out and purchase locally until that point in time.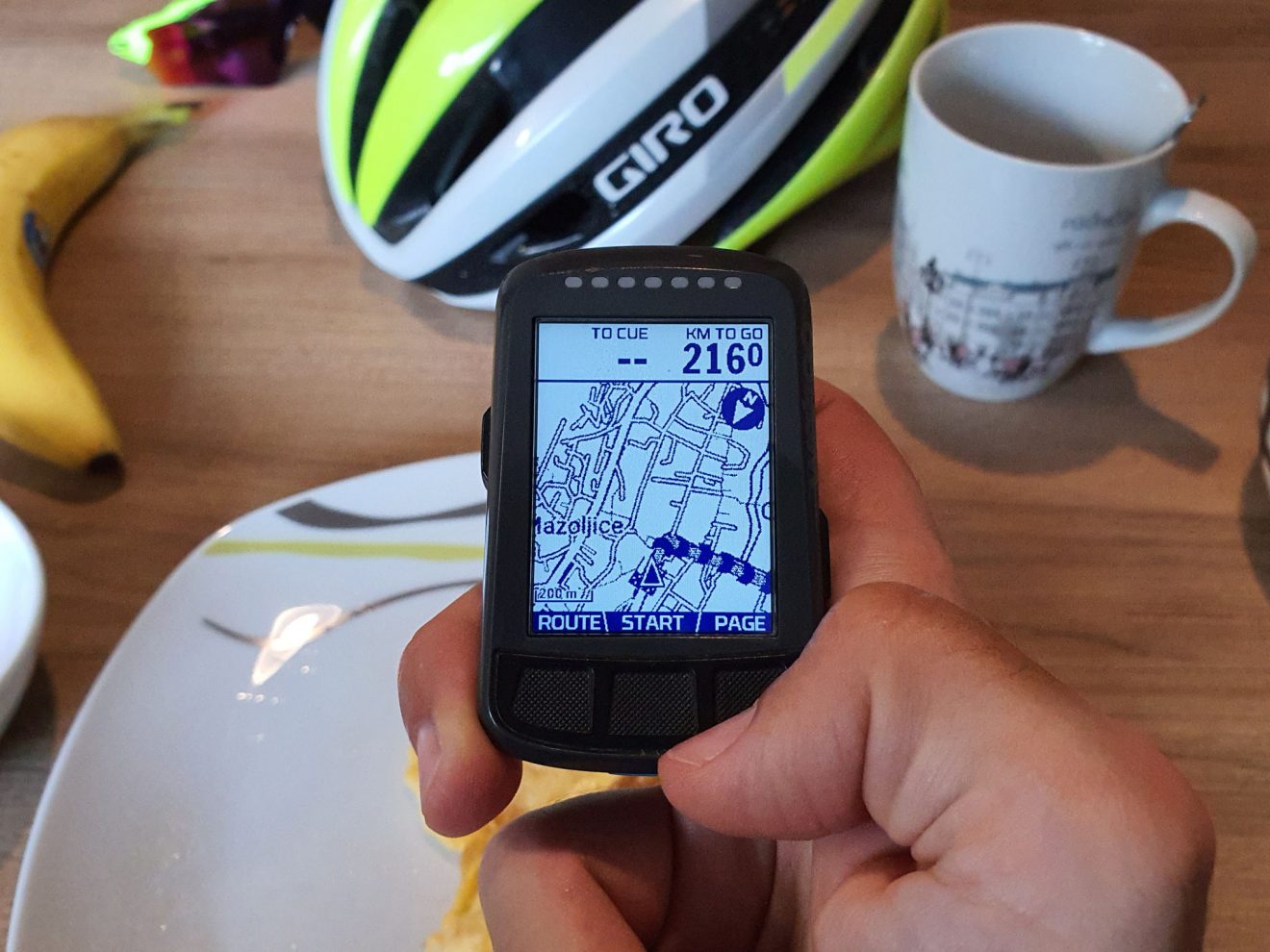 Let's go back to the beginning
In the article on the choice of a GPS cycling computer I wrote about the development path of these now unavoidable devices for cyclists – and I have been in cycling long enough to have personally witnessed it almost from the very beginning. For many years I really had a need for a navigational device for a bicycles but I managed to get by without it, because through racing I developed the practice to study a given route in detail in advance and for first aid I always had a mobile phone with navigation abilities at hand. On the other hand, it was not my priority to purchase a GPS cycling computer solely for the purpose of recording rides for Strava, which I started sporadically using during 2016 to present some of my special rides – and for that purpose, the phone was again a completely satisfactory option for me, running Strava Android application.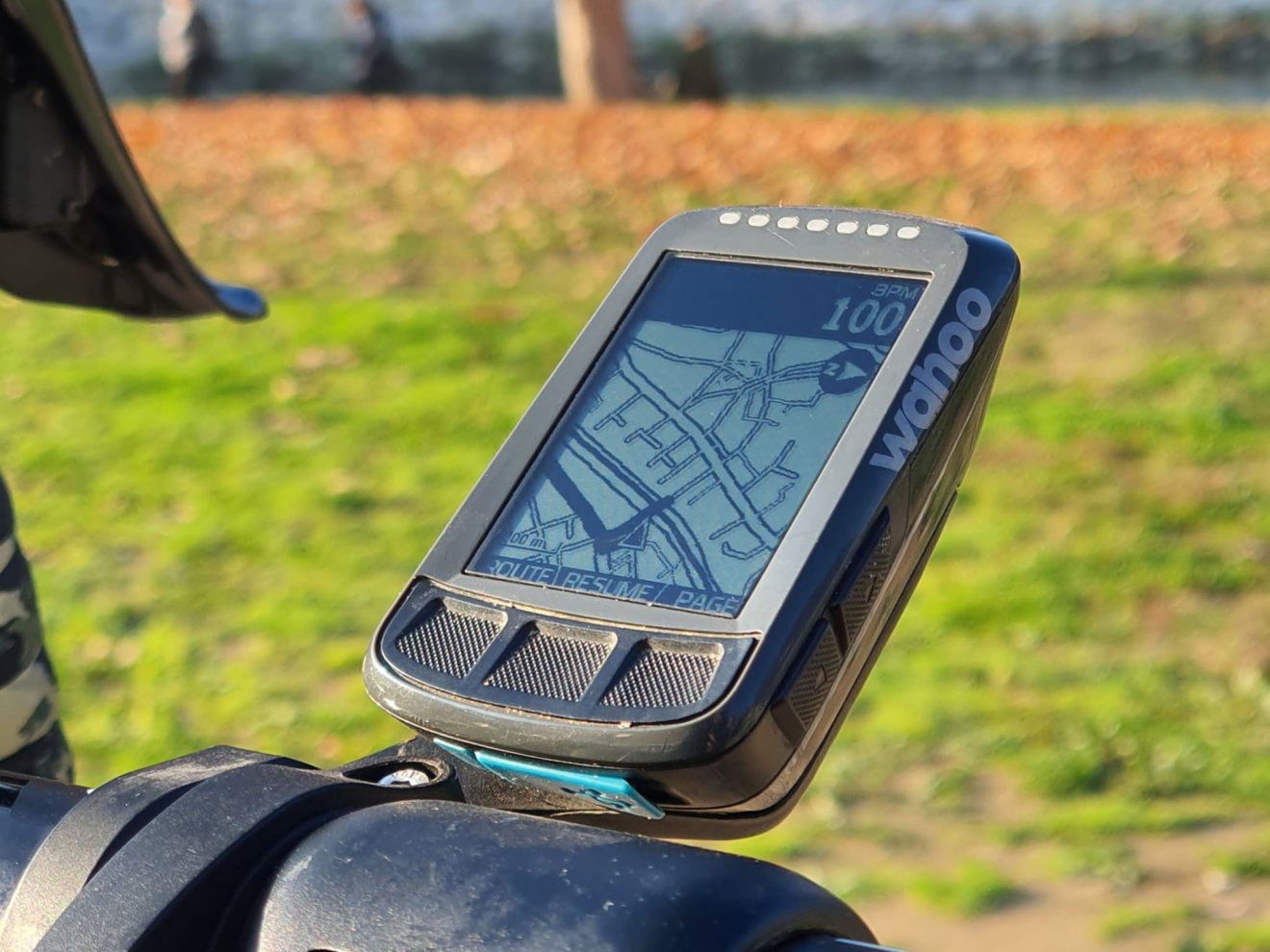 My criteria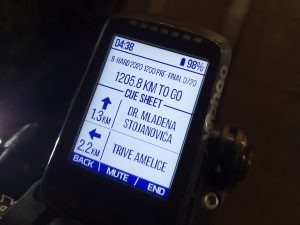 The biggest psychological obstacle that had been preventing me from getting a modern cycling computer was battery life. I was supposed to accepted that, instead of replacing a battery every couple of years, now I had to charge the cycling computer after every couple of rides! That was just crazy in my eyes, but as I got used to charging my phone every day (or night actually) during the course of the last decade, I somehow accepted this reality but my eliminatory condition still was that I could at least do a full day ride (like 300+ km) without having to recharge it – and if I had to top it up, then I needed it to be possible to do while the device is still doing its job smoothly. Interestingly, this condition on its own eliminated a good number of devices to begin with.
Next, I wanted a device that is a direct successor to classic cycling computers in terms of functionality and practicality, only with extended functionality and not some bulky "gadget" that tries to do everything, with hardware and software that look like the had appeared 10-15 years ago . I didn't want non-intuitive handling and setup, complicated synchronization of routes to the device and transferring of ride records to the Internet and I definitely didn't want yet another touch screen in my life. It was also not satisfactory for me not being able to load a route longer than a hundred km without creating problems of the functioning of the device.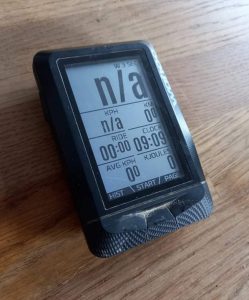 And really, in this game, many brands, then leading in this segment, including my favorite Polar, simply failed to produce adequate products. Many new players also appeared appeared on the scene, many of whom did not really have a history of being related with cycling, so their products were not suitable for me either. I found out about Wahoo by noticing that many ultramarathon cyclists use this device and it turned out that it was mostly for the same reasons, that is, because of the same criteria that I had for a GPS cycling computer. Initially, I didn't pay much attention to Wahoo, because I didn't particularly like the original ELEMNT and I found it to be too big for my taste and I didn't really though much of a new company with that sort of a name and a single product (cough*prejudice*cough).
Meet the BOLT
When I definitely decided that I really had to get a GPS cycling computer – and that was because my focus had completely shifted to riding ultra-distances and brevets, as well as organising and even riding an international event B-HARD Ultra Race & Brevet – I started flipping through the technical specifications and reviews of the device for the hundredth time – and it had all led me in the direction of Wahoo. However, the difference as compared to before was that in the meantime a smaller, more compact and nicer ELEMNT BOLT had appeared.
Really, this GPS cycling computer met all my requirements: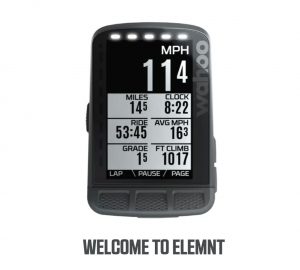 – with its form, functionality and presentation of data, it was the spiritual successor of classical cycling computers,
– the outfront aero mount positioned it compactly and almost unobtrusively in front of the stem,
– I could easily transfer routes from RideWithGPS, including a list of navigation cues, directly to the device via the Internet and I could also create and load routes on the fly while riding, using my phone;
– recorded rides automatically sync'd to Strava via WiFi (or, if necessary, via phone connection) upon return home,
– almost all settings were done incredibly fast through a great phone app and
– in the end, but certainly very important – the battery charge had a life of about 14 hours (a little bit less with active navigation) and I it was possible to recharge the device during operation.
Additionally, BOLT had some other useful features as well:
– in addition to a number of configurable screens, it also had a special "climbing" screen, i.e. a display of the ascent profile or a profile of the entire route and your current location on the profile,
– an ability to zoom in the screen easily e.g. reduce the number of displayed parameters, from a total of nine, up to only a single parameter (very useful if, for example, you're doing interval training and want to concentrate only on two or three most important parameters),
– the device had a row of additional multicolor LEDs, which served for visual indication of a selected parameter (e.g. heart rate, power or speed) but they were also used during active navigation for additional visual notification (in addition to the sound signal, as well as instructions on the screen) about which direction you need to take, as well as if you leave a given route,
– with a connection to the phone, I had an option of live tracking, i.e. public monitoring of the location and ride parameters over the Internet, for which I had to use GoogleMaps before,
– and later, through a firmware update, I also got an option of using the Strava Live segments, as well as controlling the device using additional buttons on the Shimano Di2 shifters and controlling a smart turbo trainer with the device.
So, the love was born, dices were thrown… and I made an effort of getting the BOLT even from the UK!
Full pack – air conditioning, leather, ABS…
As the technology and protocols of communication between the sensors and the devices of this type have changed over time, I also had to purchase a "bundle", i.e. a set with all the sensors (speed, cadence and heart rate monitor strap with a sensor).
In the package – and in a very nicely designed box – in addition to the device and the above mentioned sensors (speed and cadence sensors are based on the accelerometer, i.e. without additional magnets, by the way) you also get an outfront aero mount for handlebars, a regular stem and handlebar mount, a speed sensor holder, a cadence sensor holder, a screw that allows you to screw the device into the aero holder (so as not to fall out or get stolen but this is also important to professional riders because their bikes are weighed together with all the parts that are firmly attached to the bike), plastic ties to mount everything and, of course, basic instructions for use (which no one reads ;)).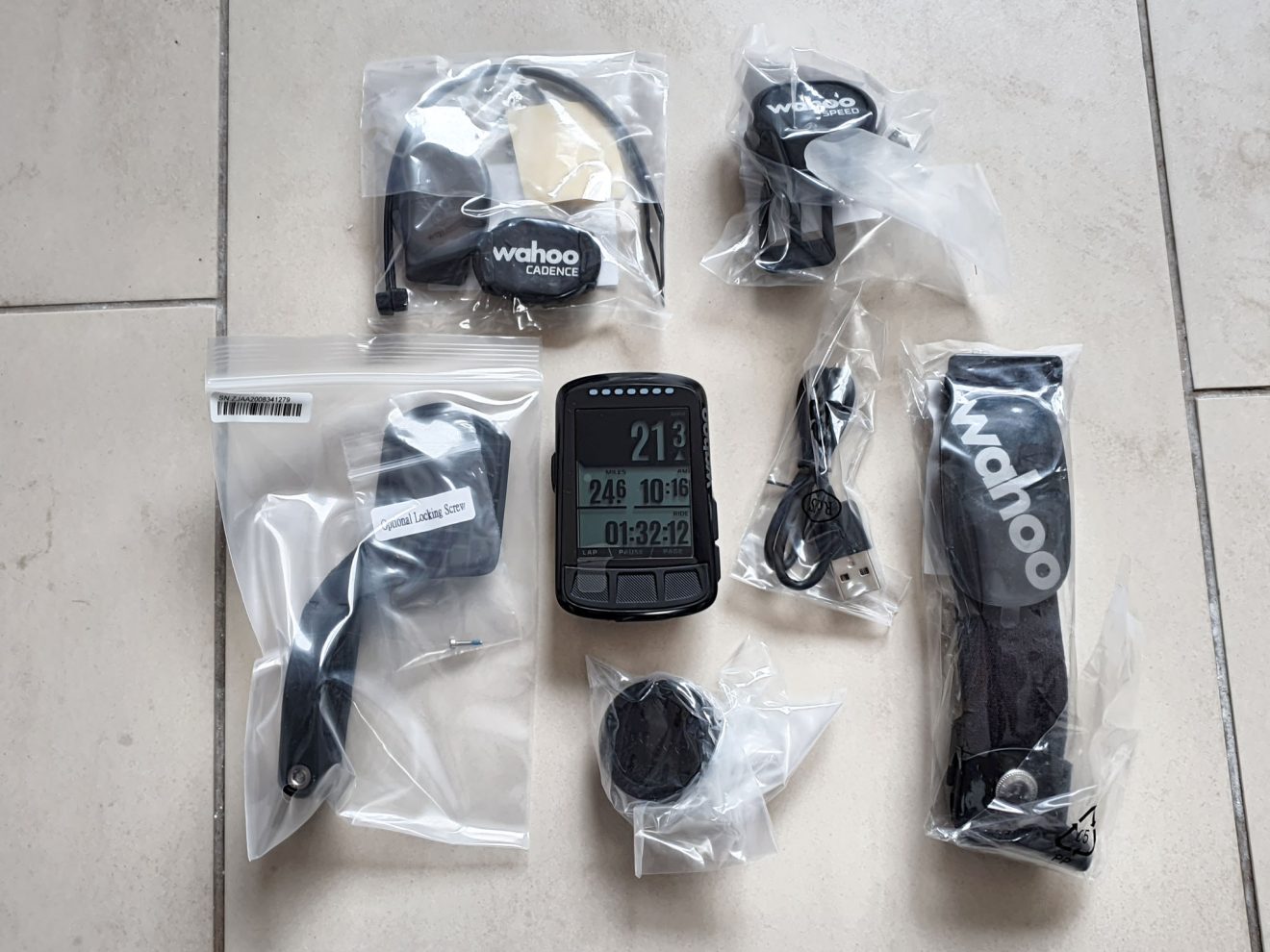 The picture of the package shows a slightly refreshed version of BOLT as compared to my original one and the differences are practically only in the color of the case (black, as compared to dark gray) and there's also a slight difference in the heart rate monitor strap and the sensor itself.
3, 2, 1… GO!
As I already mentioned, the initial setup, as well as the subsequent adjustments, are done very quickly, easily and elegantly via a phone app. In principle, you do not need a phone to pair the sensors with the device and start using it. Practically, if you buy the device itself without sensors, you can simply turn it on and start riding after 10-20 seconds, after it locks on to a sufficient number of satellites for precise location and speed data.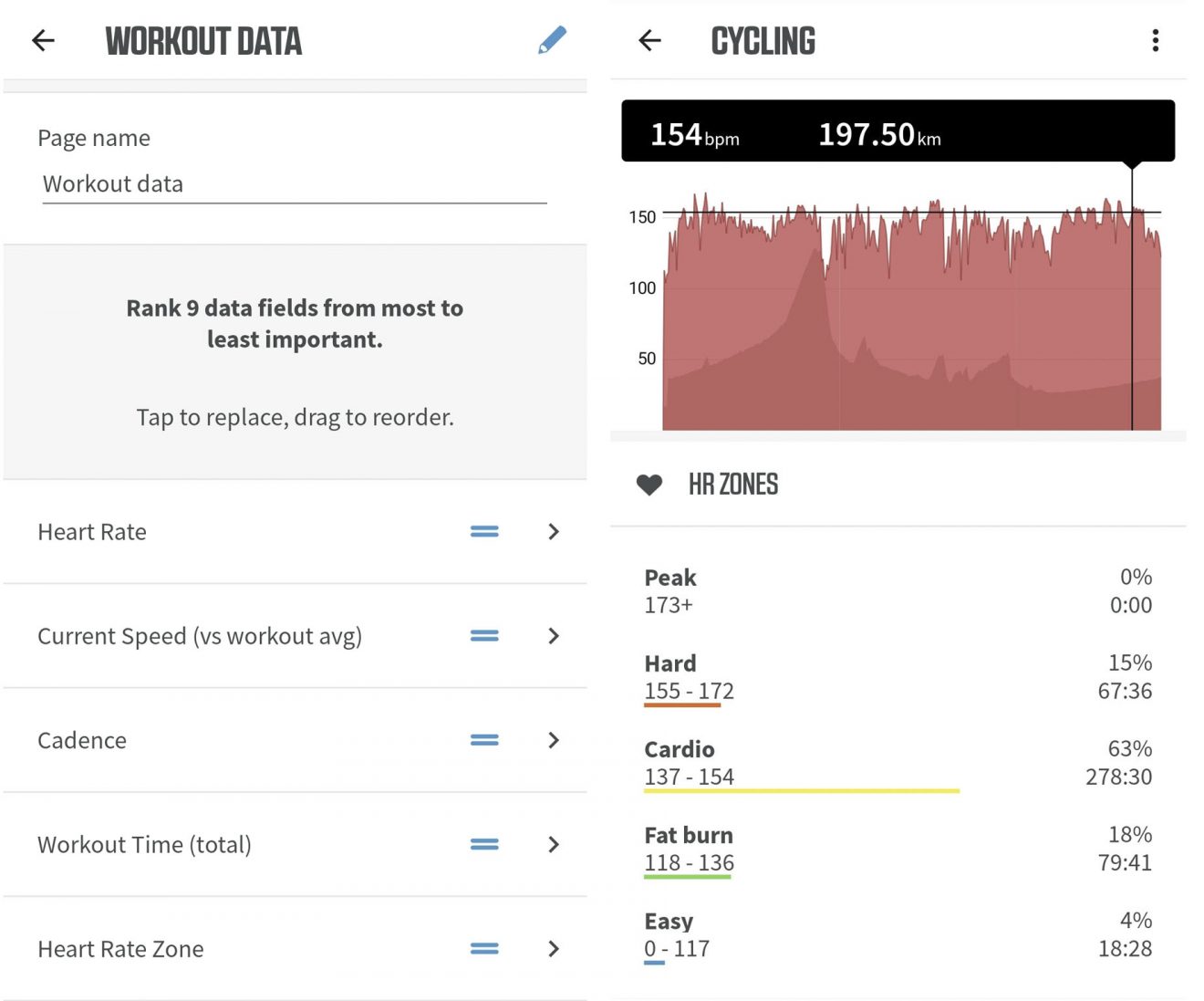 I have already talked about all the possibilities of the device, so I will base the rest of the article on practical use, starting with the buttons. So, on the left we have the power button, used for entering the basic settings menu as well; on the right we have two buttons, to zoom the screen or map in or out; on the top (i.e. on the face of the device) we have three buttons that change their function depending on the current screen but are generally used for start, stop and pause a ride, to select the next screen, to open routes, start a new lap and all other functions that may be needed at a given moment. So, it's all extremely simple and very easy to use, even when it is raining, you have your fingers smeared with a combination of salt, banana and gel, or you are using long-finger gloves.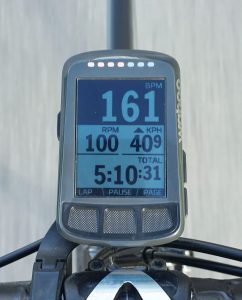 As for the screen, which is otherwise monochrome and has lighting. I set the basic Workout display to have nine of the most important current riding parameters for myself (ranked from top to bottom, due to the screen zoom function – and I mostly used the five or seven parameters zoom); I also added an additional screen – let's call it Stats – on which I put all the important statistical parameters of a ride; I added data on elevations, gradient, heart rate and speed to the Climbing screen; on the Map screen, i.e. map view, I also added information about the next cue, as well as the distance to the end of the route; when you initiate a new lap, a Lap screen appears with configurable additional parameters related to that lap (and there is also an auto-lap feature). Additionally, I set the aforementioned LEDs to indicate heart rate zones.
When I installed Shimano Di2 (electronic gear shifting) on the bike, I got the opportunity to control the BOLT with additional buttons located on the top of the Di2 shifters, which proved to be extremely useful in situations when I had various accessories mounted on the handlebars and on some important rides I also used the public live tracking function. At the end of a season, I usually play around a bit with Strava segments, so I also used the Live segments function that gives you an option of "racing" against personal best time (PR) or absolute best segment time (KOM).
"Poor little BOLT – it had to put up with you"
It could be said that I got to know and tested this GPS cycling computer very well and regularly used virtually all the possibilities that this device has to offer.
Of course, through exploitation I also came across some flaws or at least opportunities for improvement:
– as tend to think ahead while riding, sometime I may be interested in some details about the upcoming parts of the route and, although it is possible to zoom in and out of the map, it is not possible to move around on the map (except riding, of course) but it is possible to view the list of all upcoming (and previous) navigation cues,
– when the device is used with an outfront aero mount, the charging port is located very close to the stem, so a flat angled USB connector is required in order to recharge the device, although for ultradistance rides I was usually using a special mount for TT extensions or had a BOLT mounted with a standard mount in some other location (because I had something else in the space in front of the stem anyway),
– the aforementioned live tracking sometimes used to get "stuck", i.e. it wouldn't update the location and other data, but this has nothing to do with the device itself but with the internet connection on the phone and/or Wahoo's service
– and finally, during the whole period of use I had a unique case of the device "freezing" and that was in extreme circumstances – with a detailed route of 1040 km in length loaded and during 70 hours of continuous operation (and, bizarrely, at the moment that I was shoulder to shoulder shoulder with another rider who had been using a BOLT) – but I managed to reinitialise the device, after which it recovered and surprisingly, within a few minutes, loaded all the data recorded up to that point and continued to record and navigate.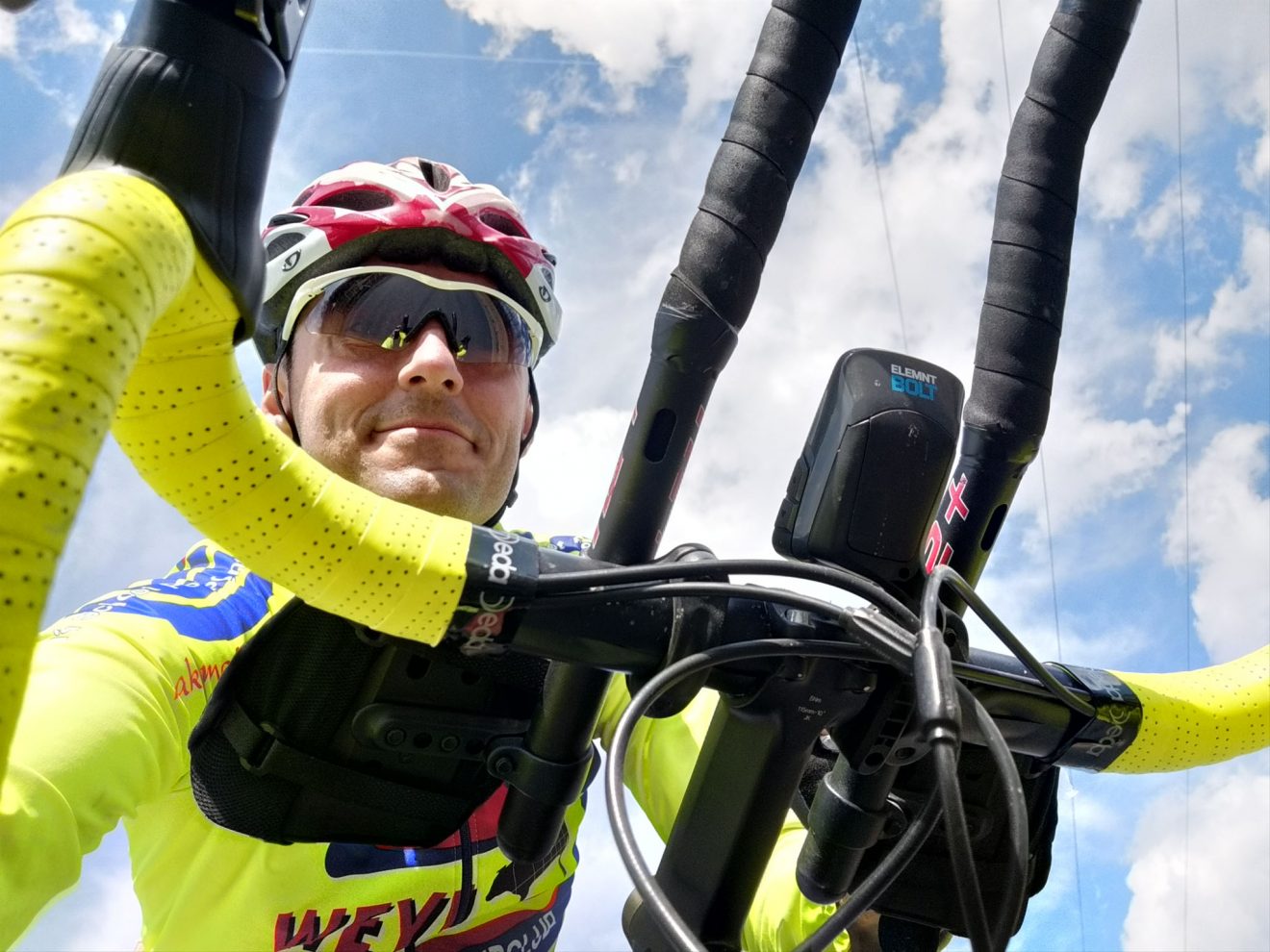 This lengthy review, both based on the period of exploitation (or testing) of the device and going by the length of the article itself, I can end with an identical sentence from the beginning of the article:
Wahoo ELEMNT BOLT is a device that had served me almost perfectly on over 300 rides and 23,000 kilometers, during the course of two full seasons.